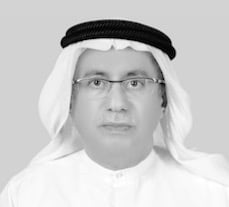 Chairman
Mohammad Omran Al Shamsi
Mohammad Omran Al Shamsi was born in Ras Al-Khaimah, UAE, in 1953. After graduating from Cairo University, Egypt in 1977 with an Engineering degree in Electronics and Communications, he joined Etisalat - the UAE's telecommunications provider – in 1977 one year after its formation.
At Etisalat he began his employment in the Engineering Department, rising to the position of Chief Executive Officer in 2004. He was appointed Chairman and CEO in 2005. As Chairman and CEO, Mohammad Omran led Etisalat to its position as a top leading telecom operator in the Middle East.
During his tenure at Etisalat, which extended for 34 years until 2012 when he decided to retire, he participated in various projects including the digitalization of Etisalat networks, establishment of satellite and submarine cables, extensive fibre optic networks and pre-GSM and GSM networks. These were in addition to his involvement in the establishment of the Thuraya Satellite system where he became the Chairman of the company until his retirement.
In April 2013 a federal Decree from the President of UAE was issued appointing Him to the post of Chairman of the board of trustees and Chancellor of the Higher Colleges of Technology in the status of a minister. He left this position in April 2018.
Presently Mr. Omran holds the following positions:
Chairman of the Board of Directors of Ras Al Khaimah Properties Company

Chairman of the Board of Directors of National Bank of Ras Al Khaimah

Chairman of the Board of trustees of the American University of Ras Al Khaimah

Chairman of the board of trustees of the Ras al-Khaimah Medical and Health Sciences University