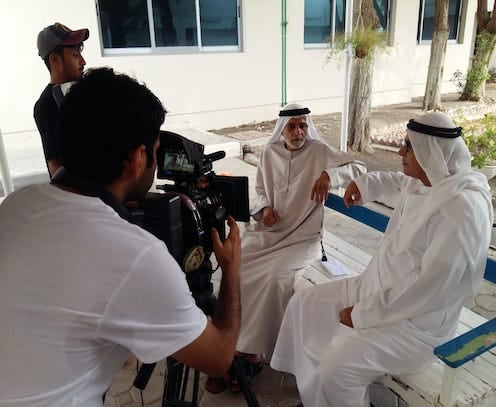 Film Grants
Al Qasimi Foundation Film Grants provide modest start-up funding (25,000 AED) to create short films (documentaries are given priority) on topics relevant to the United Arab Emirates and broader Gulf region. One grant is awarded annually each year through a competitive application process. Films produced through the Al Qasimi Foundation Film Grants are screened at Ras Al Khaimah Fine Arts Festival the following year.
Grant Objectives
Increase the number of short films and documentaries on topics relevant to the United Arab Emirates and Gulf region;


Present a wider range of stories about Ras Al Khaimah and the United Arab Emirates; and


Support talented young film directors and media professionals to help them establish their careers.
Grant Eligibility
Directors must have a background in filmmaking and/or media studies;
Directors should either be (1) current university students who have completed at least two years of their academic program, or (2) have graduated with their BA or MA degree within the last five years;
Directors ideally will have shown at least one film at a film festival in the United Arab Emirates, Gulf region, or overseas;
Proposed story ideas must be for a short film (less than 30 minutes). Documentary projects addressing important topics relevant to the United Arab Emirates and Gulf region are especially encouraged and given funding priority; and
Final films must be in Arabic or English (with subtitles in the other language) to ensure accessibility among diverse audiences.
Application Process
The Selection Committee will only consider complete proposals submitted by the stated deadline. The 2020 submission cycle will be open April 1 - May 31, 2020. To apply, interested individuals and organizations should submit the following materials to
submissions@rakfinearts.ae
. Materials may be in Arabic or English:
Introductory cover letter addressing reason(s) applying for the Film Grant and a brief summary of the proposed documentary topic;
Director's CV and names/roles of other individuals who will be involved in the documentary project;
Detailed storyboard for the proposed documentary;
Completed

Film Grant Budget Template

detailing all expected costs and a list of facilities, special equipment, or other resources necessary for making the documentary. If other individuals, organizations, or sponsors are also providing financial or in-kind support (e.g. expertise, use of equipment) it should be noted. The Al Qasimi Foundation's financial contribution should not exceed 25,000 AED.
List of locations and areas where filming will take place. This should include whether permission will be required for any locations;
Anticipated timeline for the project, including filming and editing milestones and associated deliverables;
Letter of recommendation from a professor, colleague or organization; and
One sample of the director's latest film on DVD (if this is the first film, submit samples of recent media projects).
The Selection Committee will review all complete proposals and identify finalists to invite for an interview. The interviews may take place in-person or via Skype. Once all interviews are complete the Selection Committee will make a final recommendation and choose the Film Grant recipient for the year. Applicants can generally expect to receive a formal decision on the status of their proposal within 6-8 weeks of the annual submission deadline.
Grant Awards
Grant funds may be used for production-related activities only. Anticipated expenses should be detailed in the proposed budget during the documentary grant application process. Examples of acceptable production-related expenses include location and equipment rentals such as studio time or lighting and sound equipment necessary for filming; make-up, costumes, or props; commission or purchase of music soundtracks; editing or animation software; and Arabic/English translation and subtitles.
Successful applicants will have 5-6 months to complete the production of their short film. The Al Qasimi Foundation and Ras Al Khaimah Fine Arts Festival reserve the right to check the quality of the film and flow of the story during the production process and to edit the story as needed with the director.